Dinghy rental services
Based in Porto Santo Stefano, on the Monte Argentario promontory.
Renting a dinghy has never been easier or faster!
We offer a wide variety of different sized dinghies that can carry from 6 to 22 passengers, some of which can be driven without a nautical license. Rentals can be made for one or more days and if you wish you can also hire a qualified skipper.
Our rental company is strongly committed to making our customers' days unforgettably relaxing and pleasurable. All of our dinghies boast cutting-edge finishings, full optionals and top design. Furthermore, great care is given to even the tiniest detail. Both the engines and crafts are under constant control and maintenance in order to guarantee high standard safety.
As we ourselves often enjoy a day out on the sea, we only avail of highly qualified professionals, in view of eliminating precious time wasting activities for our customers, so they can spend a glorious day on board one of our dinghies.
Car parking

lots

Return to port later

than the general timetable

Lunchboxes
New and safer means of

nautical transport
Apart from our exceptionally good rental charges we also offer the following services:
Return to port later than the general timetable: our scheduled time for customers to return dinghies is 20.00 (no later);
The possibility to save time by not refuelling, this allows you to enjoy the whole day out at sea, right up to the very last minute and frees you from being tied to the opening hours of the petrol station. We can calculate How much petrol you have used on your return and you can pay then; We will refuel the dinghy the following morning;
Car parking service, all you have to do is to bring your car to our agency in the port, which is very close to the boarding point and our staff will park for you and collect your car on your return.
OUR RENTAL CHARGES DO NOT INCLUDE THE FOLLOWING:
Lunchboxes: you can order lunchboxes and drinks between 17.00 and 18.00 the day before and find them already aboard on your arrival. The costs of beverages and lunchboxes are not included in the dinghy rental charges and must be paid for separately.
Petrol: dinghies are supplied with a full tank; the cost of the amount of petrol used is not included in the dinghy rental charges.
Rubber Dinghy Predator 500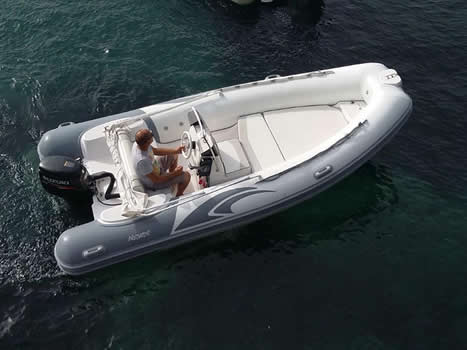 May € 140 per day
June € 140 per day
July € 160 per day
August € 160 per day
September € 140 per day
Lenght: 5,00 Mt.
People on board: 7
Driving without a license
ENGINES
Rubber Dinghy Sea Power 550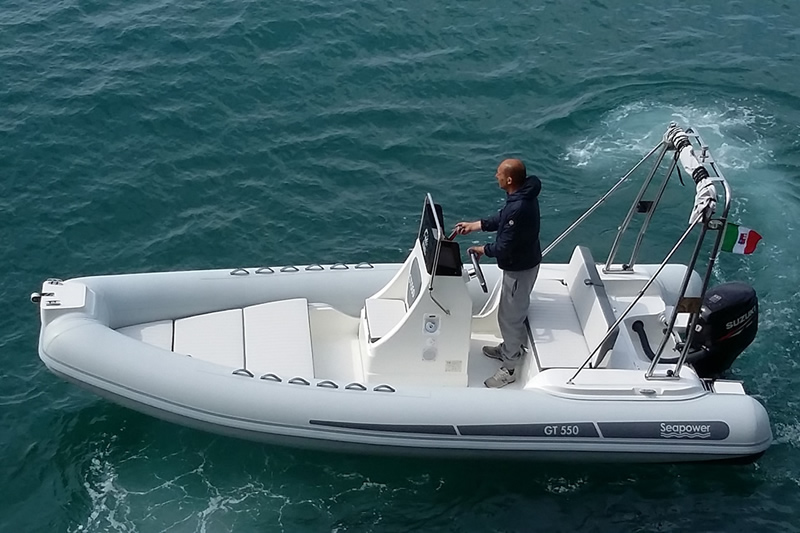 May € 160 per day
June € 160 per day
July € 180 per day
August € 180 per day
September € 160 per day
Lenght: 5,50 Mt.
People on board: 8
Driving without a license
ENGINES
Rubber Dinghy Jolly King 670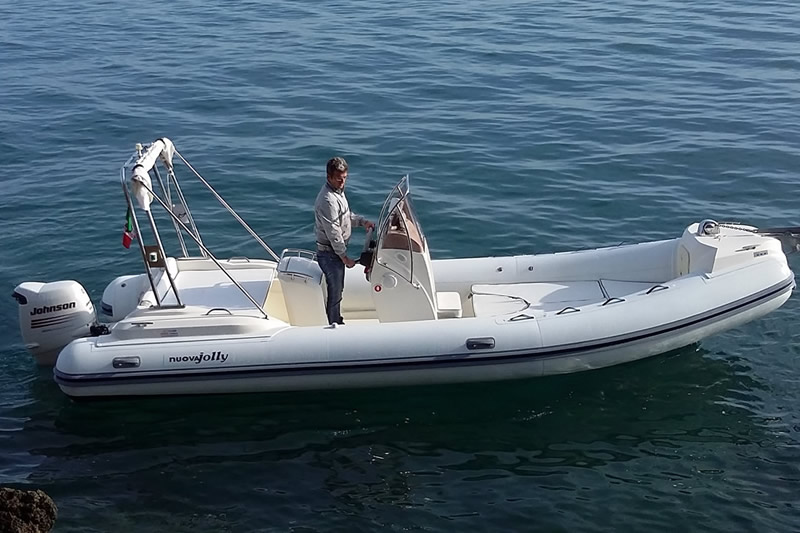 May € 250 per day
June € 250 per day
July € 300 per day
August € 300 per day
September € 250 per day
Lenght: 7,00 mt.
People on board: 14
Accessories: awning, shower, electric windlass, sounding.
Driving with license
Skipper: with or without skipper
ENGINES
Rubber Dinghy Nadir 700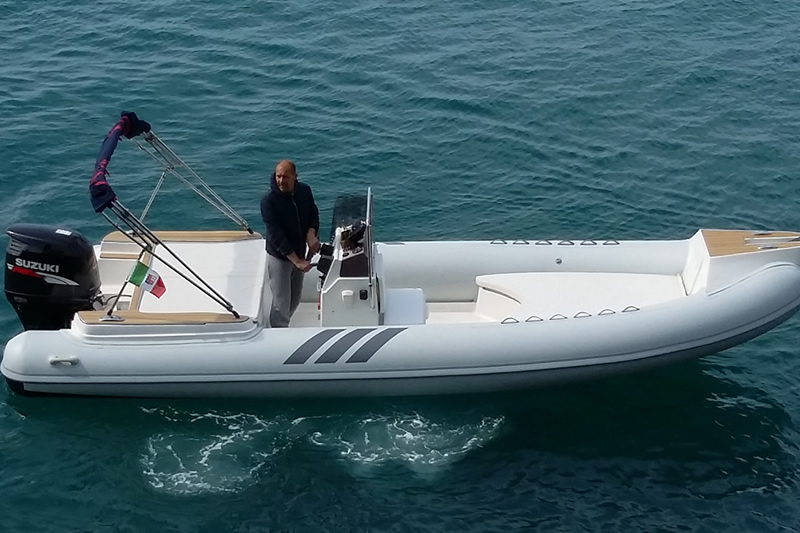 May € 250 per day
June € 250 per day
July € 300 per day
August € 300 per day
September € 250 per day
Lenght: 7,00 Mt.
People on board: 12
Accessories: shower and fridge
Driving with license
Skipper: with or without skipper
ENGINES
Rubber Dinghy Sea Power 750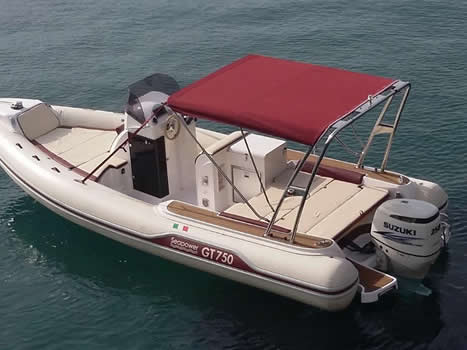 May € 350 per day
June € 350 per day
July € 400 per day
August € 400 per day
September € 350 per day
Lenght: 7,50 mt.
People on board: 16
Accessories: shower and fridge
Full optional
Driving with license
Skipper: with or without skipper
ENGINES
Rubber Dinghy Capelli Tempest 770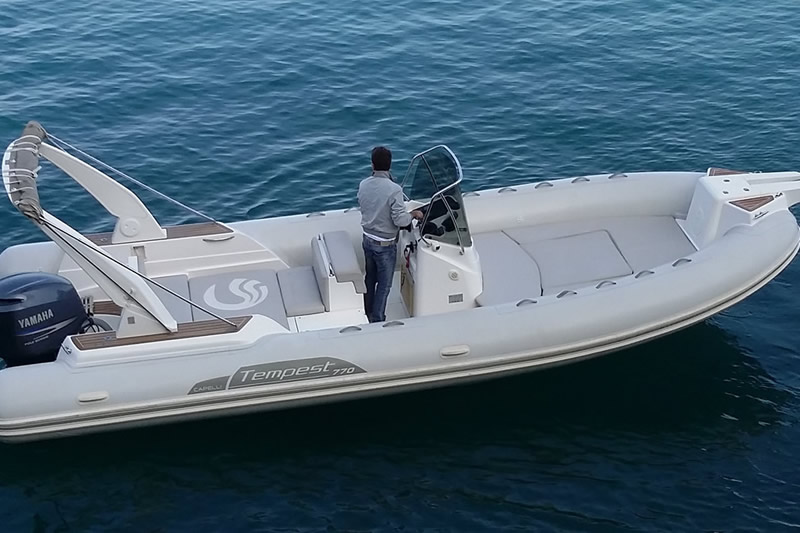 May € 350 per day
June € 350 per day
July € 400 per day
August € 400 per day
September € 350 per day
Lenght: 7,70 mt.
People on board: 18
Full optional
Accessories: shower and fridge
Driving with license
Skipper: with or without skipper
ENGINES
Rubber Dinghy Joker Boat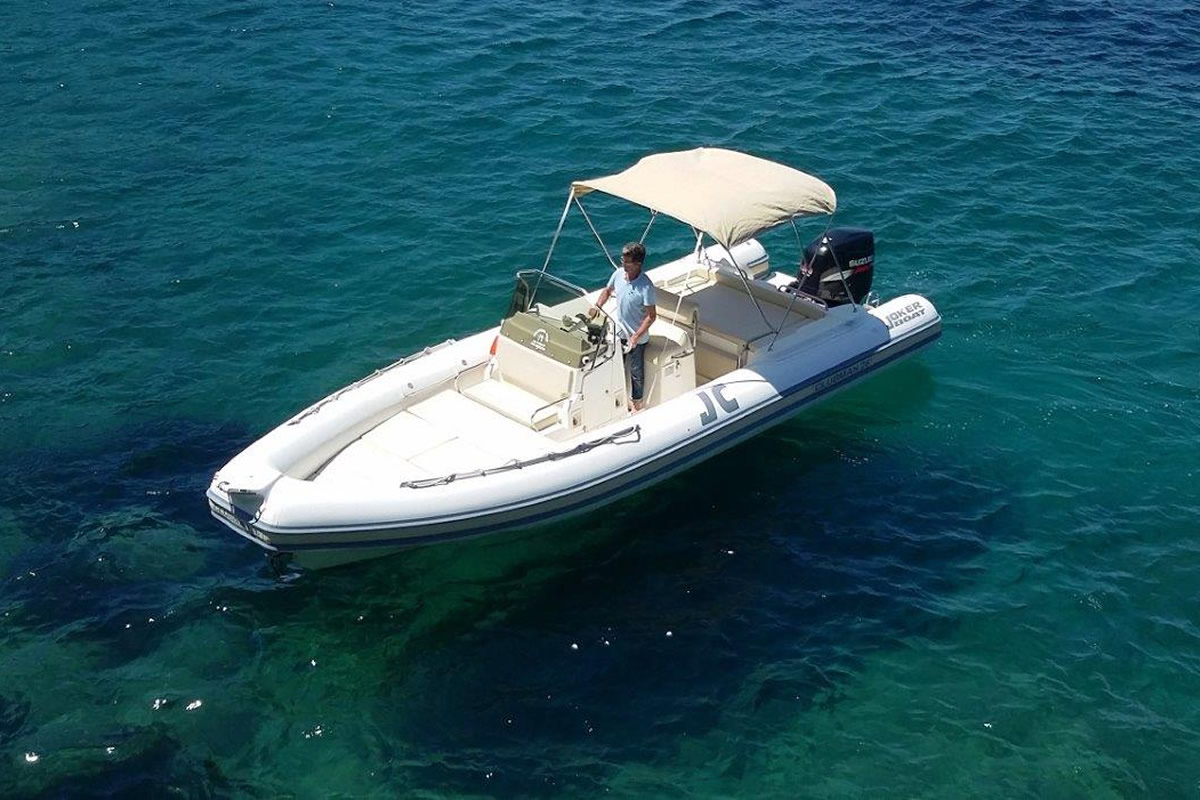 May € 400 per day
June € 400 per day
July € 450 per day
August € 450 per day
September € 400 per day
Lenght: 8,20 mt.
People on board: 18
Full optional
Accessories:
Driving with license
Skipper: with or without skipper
ENGINES
Strider 11 EFB
May € 900 per day
June € 900 per day
July € 900 per day
August € 900 per day
September € 900 per day
Lenght: 11,00 mt.
People on board:
Full optional
Accessories:
Driving with license
Skipper: with or without skipper
ENGINES
2x350 V8 Volvo Penta elettronici